7 Best Sofa Brands UK
AT A GLANCE:
Darlings of Chelsea
John Lewis
MADE
Furniture Village
Sofology
SofaSofa
IKEA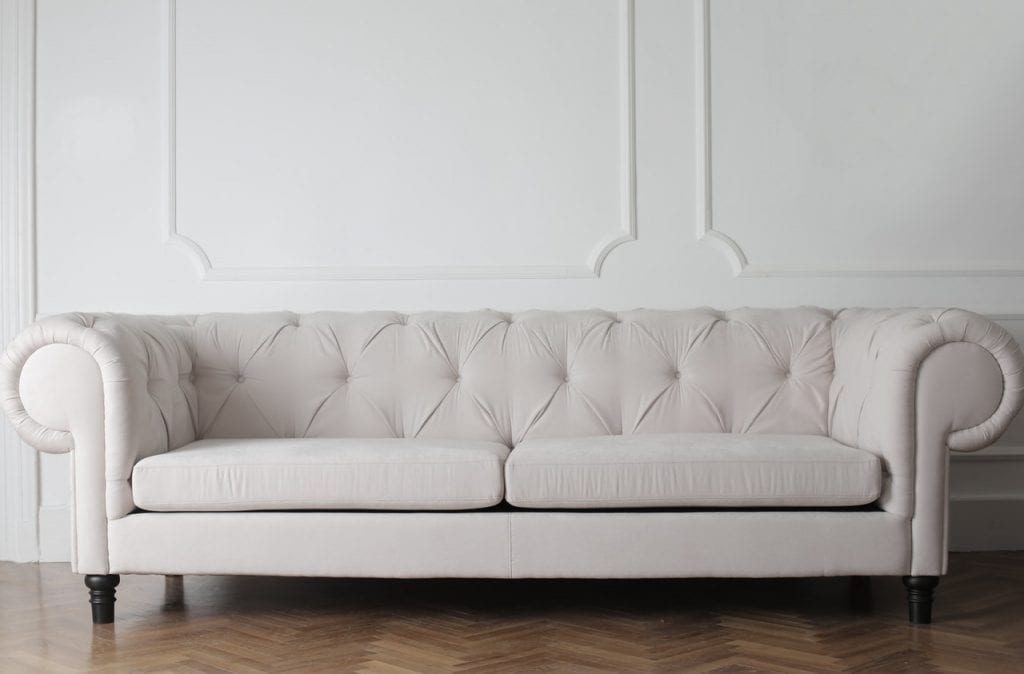 Buyers Guide to the Best Sofa Brands in the UK
The sofa you buy will dictate your comfort levels. Sofas also dictate a room's style, warmth, and other interior design aspects. Luckily, there are countless sofas to choose from, and one of the best ways of choosing sofas is by considering the brand. Luckily, the UK doesn't have a shortage of sofa brands.
Our interest here is on the 7 best sofa brands in the UK. We've looked at every variable imaginable, from cost to quality and customer reviews, before compiling a list of seven best sofa brands. Regardless of individual tastes and preferences, there should be at least one sofa brand below that will be great for you.
1. Darlings of Chelsea (Prices Starting From £1,025)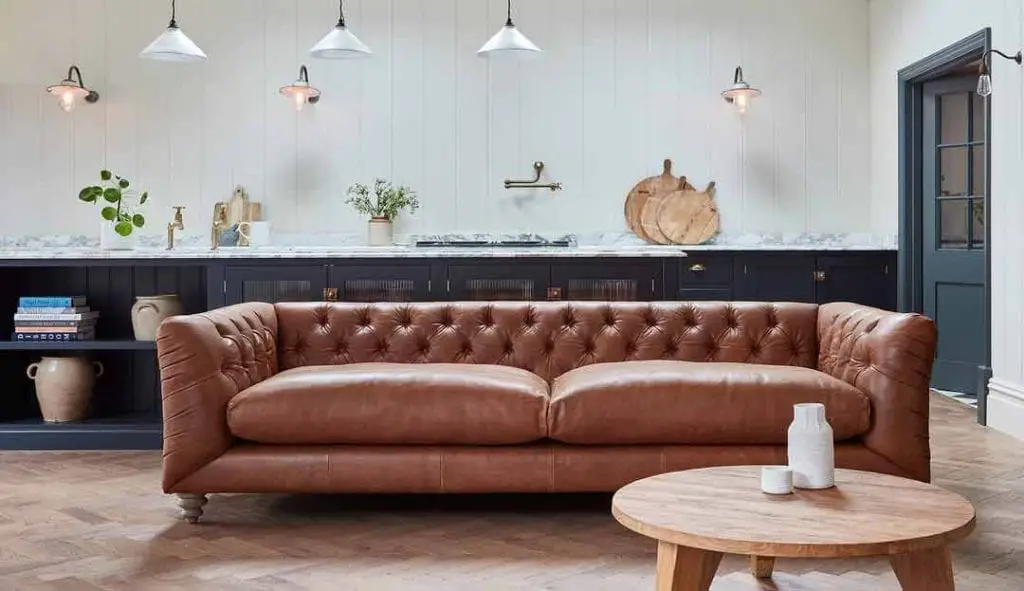 The Darlings of Chelsea sofa brand is synonymous with luxurious but competitively priced sofas. You can secure a small luxurious corner leather sofa with £1,025 or more. The brand specialises in leather sofas, fabric sofas and velvet sofas but has other products such as footstools, chairs, mattresses and beds.
Darlings of Chelsea is a 40-year brand with a vast range of sofa styles and features to choose from based on style and sofa feature preferences. There are over 97+ sofas available with a vast choice on the fabric, style, colours and other features to choose from. For instance, there are seven different leather sofas to choose from.
Darlings of Chelsea also has several fabric sofas and styles. You can choose modern, classic, designer, mid-century, chesterfield or classic styles and select one of the many sofa features on offer (from recliner and high back to deep, square/round arms, etc.). What's more, you can have a sofa made just for you in any style, fabric, leather, colour, name it!
Most importantly, the sofas aren't as costly as you would expect with a luxurious sofa brand known for great design and British craftsmanship. Individual sofas cost from £1,025 to £4,573. What's more, Darlings of Chelsea offer discounts as high as 30%, (even more), making purchases cheaper. It's also possible to buy top quality furniture at a bargain through clearance sales and enjoy over 50% off.
Darling of Chelsea sofas stands out in many other ways. For instance, you'll get a 10-year solid timber guarantee. You can also get free fabric samples. If you are having difficulties choosing any one of the 170 fabrics available, eight of your best fabric sample picks can be sent to you (with free shipping) to help you make a decision.
Darling of Chelsea also has verifiable Trustpilot reviews attesting to the brand's prowess in making high-quality sofas. What's more, the brand works with renowned designers such as Terrence Conran and has won notable customer service awards. Darling of Chelsea also has financing options. You can place a 10% deposit and get up to 24 months of zero-interest financing if you spend over £4,000. Get Darlings of Chelsea sofas and more NOW!
Pictured is the Dulwich Range from Darlings of Chelsea.
2. John Lewis (Prices Starting From £499)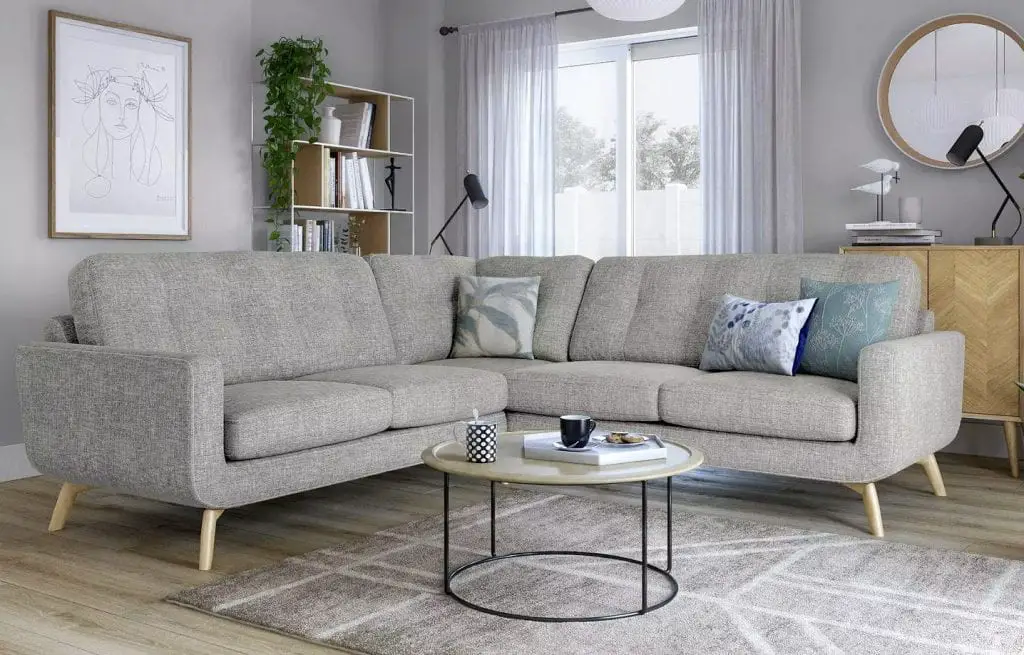 John Lewis sofa brand offers unexpected quality and price considering sofas start from £499. Since 1925, the John Lewis brand has been offering a variety of sofas and other products. You can buy sofas, sofa beds, corner sofas and more at a bargain. John Lewis keeps introducing sofa ranges during different seasons, ensuring customers make the best out of all seasons with new sofas and related picks that ensure seasonal fun.
John Lewis offers five main sofa ranges, namely Bailey, Arlo, Charlotte, Cromwell and Barbican. Sofas can also be bought in different materials (different fabric or leather), different seat number and featured brands. It's even possible to design your own sofa and have it delivered within a record 7 days. Deliveries can take less time i.e., three days, depending on a client's postcode. With such a delivery timeline, John Lewis is clearly the sofa brand to consider if you want a sofa in a hurry.
This is also one of the few sofa brands in the UK that comes with a virtual home styling option. If you aren't sure of the sofa style you want, John Lewis has virtual home design stylists who will help you choose or design a sofa that matches your interior perfectly. The service makes it possible to explore John Lewis's complete upholstery collection at the comfort of your office or home.
It gets better. Once you've narrowed down to a preferred sofa, you can enjoy interest-free financing on any purchases above £500 and spread payments over a year, even longer if your sofa purchase is above £1,500. Customers also get a 15-year warranty for John Lewis and partner sofa frames.
Explore 580+ John Lewis sofas Now across 76 ranges! Get a sofa bed for as little as £299.
Pictured is the Barbican range from John Lewis.
3. MADE (Prices Starting From £329)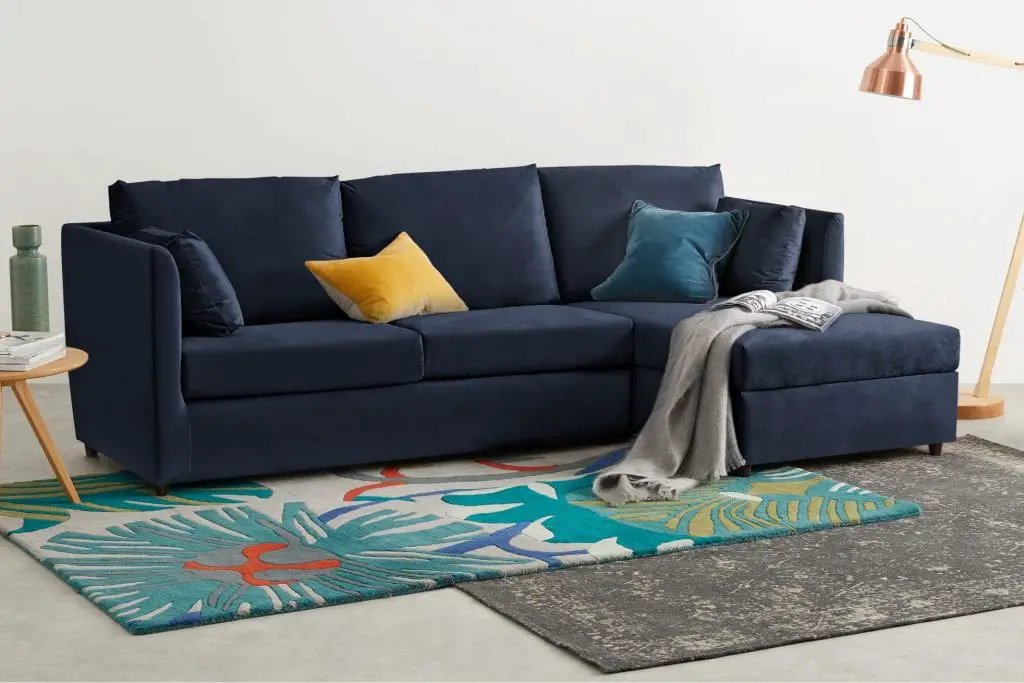 MADE sofas stand out among our list of 7 best sofa brands UK for bringing great sofa designs to everyone. The brand began over a decade ago to fulfil a missing link i.e., to have well-designed and affordable sofas. MADE redesigns the process by collaborating with great independent designers to design sofas that are great minus the hefty price tag. You can get small high-quality sofas for as little as £329.
MADE has a wide range of sofas. Choose any sofa from the 700+ sofas on sale. There are small 2, 4, and 4-seater sofas on sale. In regards to type, you can buy anything from modular and chesterfield sofas to corner sofas, sofa beds and more in a variety of materials (leather, fabric, velvet and more).
If you don't like what's on offer, you can custom-make your own sofa. MADE has a virtual custom sofa design process that lets you find your style and custom make a sofa to your desired taste. In fact, MADE has partnerships with independent designers resulting in unique collaborations. The brand believes in offering customer everything (from great quality to great designs and affordable pricing).
What's more, when you buy MADE sofas, you'll be buying from one of the few sofa brands in the UK that genuinely care about the environment. MADE takes sustainability seriously. If you want to support a sofa brand that sources raw materials sustainably and avoids plastics, MADE is a great pick. You should also choose MADE if you are keen on supporting brands that uphold diversity and inclusion. MADE is also loved by its customers, which is evident in the millions of satisfied subscribers it has online on social media channels like Facebook and Instagram.
Explore MADE sofas here!
Pictured is the Milner Range from MADE.
4. Furniture Village (Prices Starting From £899)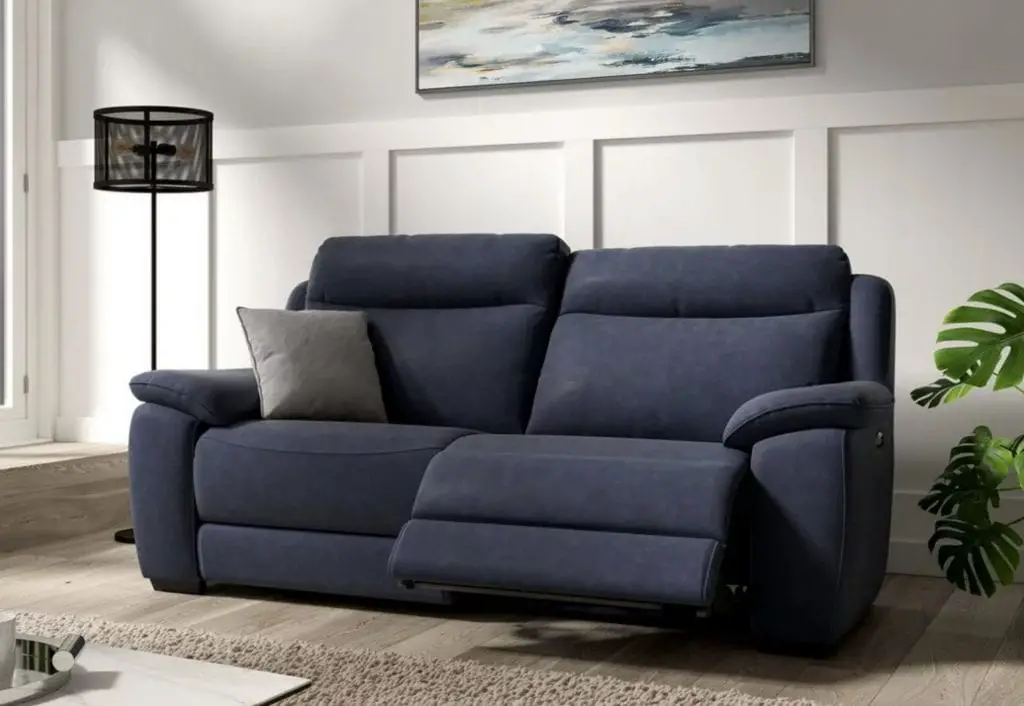 Furniture Village has 3-seater leather sofas and recliner sofas starting from £899. What's more, you can get a payment plan that allows you to pay as little as £59 monthly at 0% APR. Furniture Village prides itself in selling beautiful, well-crafted sofas.
The brand also has a vast variety of all types of sofas ranging from sleek to contemporary recliners and cosy corner sofas. The sofas offer great comfort and style. You just have to choose any of the 762 sofas available on sale using selection filters like material, colour, style, price, etc.
The Future Village sofa brand stands out for many things, the most notable being the 20-year structural warranty which is a true testament of quality. The brand has also stood the test of time. Future Village is over three decades old. Since being established in 1989, the brand has established itself as the home of high-quality, affordable and beautifully designed furniture. Future Village is also synonymous with great customer service despite having over 54 stores in the UK.
The brand attracts global clientele from as far as Italy. In case you are wondering how Future Village sofas are made, the brand utilises traditional craftsmanship and premium raw materials to create sofas and other products that are tested and proven.
Most importantly, sofas and other products come with a 5-year Guardsman protection plan that covers accidental damage that allows you to enjoy your sofa stress-free. Customers can make unlimited claims over a 5-year period without incurring any annual renewal costs or paying excess.
Browse over 1,000 sofa sales at incredible discounts HERE! See what past/present customers are saying about Furniture Village sofas.
Pictured is the Starlight Express 3 Seater Fabric Recliner Sofa by Furniture Village.
5. Sofology (Prices Starting From £189)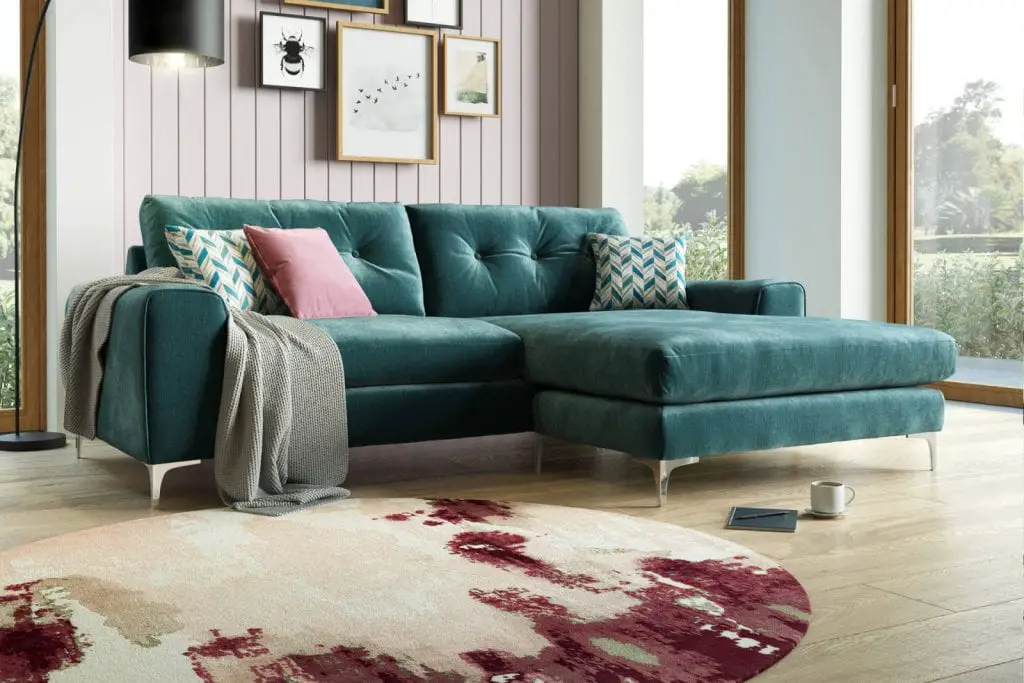 Since 1974, Sofology has been selling leather and fabric sofas in the UK. The brand sells everything from fabric to leather, recliner, and corner sofas. Customers can use a sofasizer to design a sofa online in any preferred size, colour, type and price. If you want a comprehensive sofa design tool that factors in pricing, look no further!
Sofology also has exclusive sofas for those who are keen on the latest trends and timeless styles. The brand's passion for design stands out. Prices are also adjusted daily. While the brand doesn't run sales, you can rest assured you are getting the best price possible. Customers can rest knowing they won't spend a small fortune on a sofa that will be sold at a discount in the future.
Customers can also rest easy knowing they have a 20-year structural warranty. While Sofology sofas are handcrafted using traditional craftsmanship, you still have two decades of stress-free usage. The brand has unmatched attention to detail and quality of materials. For decades, Sofology has perfected the art of sofa making, which is why the brand can guarantee the integrity of its products for 20 years.
Sofology also has one of the best in-store experiences. Sales staff aren't under pressure to sell sofas and earn commissions. As a result, customers have a more pleasant in-store shopping experience. You can also get interest-free financing for all purchases amounting to £600 or more.
Design or choose from hundreds of sofas on Sofology's official website. You can even seek inspiration or talk to an expert. Alternatively, you can find a Sofology store near you!
Image is of the Demure range by Sofology.
6. Sofasofa (Prices Starting From £349)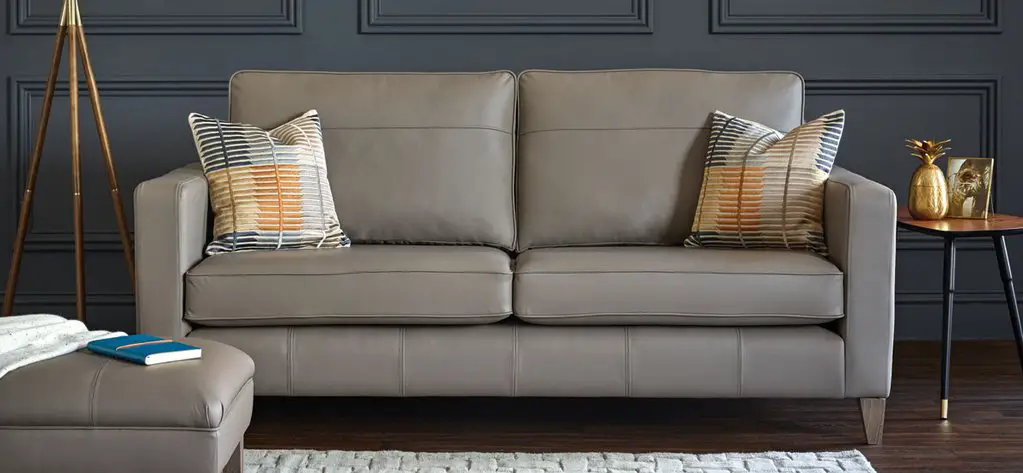 Since 1981, Sofasofa has been making high-quality British sofas and related products. Part of the reason why Sofasofa has been able to maintain that high British qualify sofa consistently is because most employees have been with Sofasofa for over a decade. Sofasofa also has strict quality controls. For instance, sofas are made exclusively in three workshops. The brand doesn't outsource manufacturing or sell cheap imports.
Sofasofa sofas are also handcrafted. The sofas stay true to the principles of good furniture. Every sofa has a solid frame made using hardwood frames. Sofa models are also prototyped and tested thoroughly to ensure they pass British quality standards and comply with fire safety standard.
Sofasofa also uses fabrics that have been sustainably sourced. The sofa fabrics also meet independent BS 2543 (British Standard tests) before being used. Most importantly, the sofas come with a 5-year warranty for frames and 2-year warranty for materials and construction.
If you are searching for a British Sofa brand that has been made with strict observance to every aspect, consider Sofasofa. In case you are wondering how Sofasofa is so meticulous on quality and standards but still manages to offer great prices, the brand cuts out retailers.
The best sofa brands UK tend to be overpriced because there are many middlemen. When you buy Sofasofa, you are buying directly from the manufacturer. The brand doesn't have expensive showrooms or work with retailers who increase the selling price.
Choose Sofasofa for the greatest saving on sofa purchases. Pay the trade price minus retail overheads like salesmen commissions and outlet rent passed on to buyers by retailers. Sofasofa also offers quick delivery. Since the brand doesn't deal with cheap imports and everything is made in Britain, customers don't have to wait weeks for their sofas to arrive. Most deliveries happen within six weeks or less from ordering to delivery.
Sofasofa also offers extra guarantees missing with other sofa brands. For instance, the sofas come with a risk-free home trial guarantee that allows customers to try out sofas and decide if they love them or want to get a different type, size, colour, shape or a 100% refund.
Sofasofa also offers environmental advantages for sofa buyers in UK that care about sustainability. All sofas are made using responsibly sourced raw materials. Customers can get in touch with Sofasofa for precise information on the origin of hardwoods used to make their sofas.
Find a sofa using Sofasofa's unique Sofa Finder tool.
Image is the Portofino Leather Sofa from SofaSofa.
7. Ikea (Prices Starting From £179)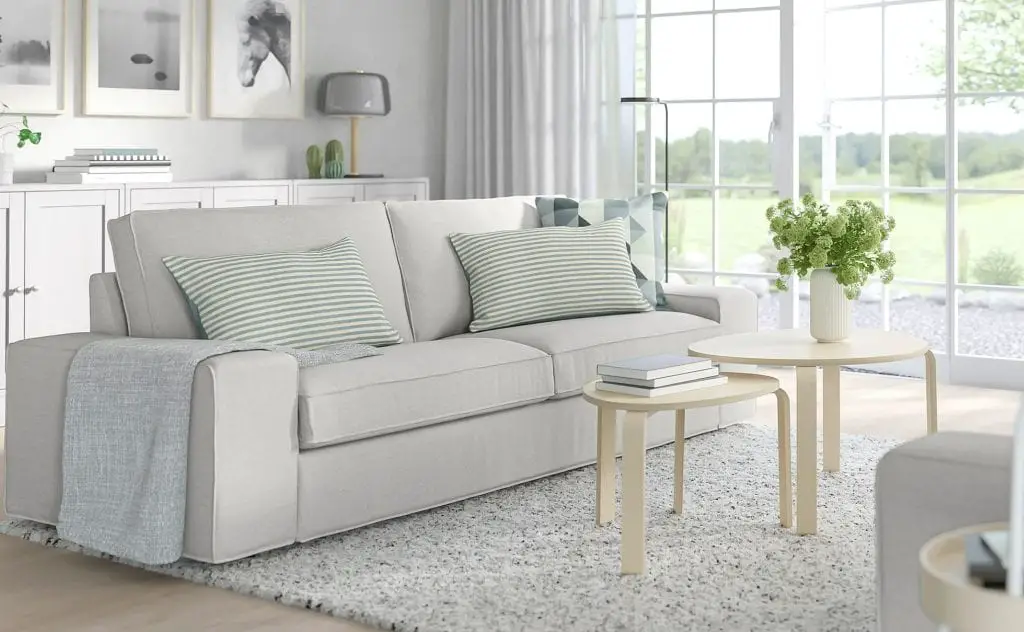 Buy a compact 2-seater sofa from IKEA for just £179. Ikea has over 500 sofas to choose from in a wide range of colours, seats, categories, shapes, prices, etc. IKEA sells fabric sofas, sofa beds, modular sofas, sofa accessories and many other products in the UK and other markets globally.
The brand is synonymous with beautiful designs, functionality, quality, sustainability and incredibly low prices. IKEA is a renowned global furniture brand that has democratised furniture design allowing everyone to enjoy good home furnishing. IKEA is a trusted furniture brand that has been around for over seven decades.
IKEA sofas are made with a global clientele in mind. They are also available in large production volumes, which translates to better deals and variety. If you are buying sofas in large quantities for an office complex, serviced apartments, among other largescale purchases, IKEA comes highly recommended. The brand has perfected variety and other important factors like furniture packaging and shipping.
What's more, the economies of scale don't expose clients to any risks. All IKEA sofas come with a 10-year guarantee. While manufacturing is done in scale, IKEA sofas undergo vigorous testing to ensure they comply with the strict quality standards of the market they are made for. IKEA sofa customers in UK are covered from any defects in workmanship or materials for a decade.
There are also many ways to buy IKEA furniture, including payment plans that ensure you pay as little as £33 monthly in interest-free repayments. Financing options are available for up to £15,000. Cheap same-day delivery is also available for in-store purchases. What's more, IKEA has many initiatives supported through its business. For instance, the brand funds many local initiatives that impact people and the planet positively. IKEA also offers opportunities to individuals interested in design. If you love sofa brands that make a real difference, consider IKEA.
Design your own IKEA sofa or choose from hundreds of sofas ready for sale.
In Summary
There you go! While there may be other sofa brands that stand out in their own unique way, the above brands are the best in regards to pricing, guarantees, customer selection, variety, sustainability, design and many other factors.
Before you consider buying a sofa from anywhere else, consider the above brands first. Besides getting great deals that match your budget perfectly, the above brands ensure you get the exact sofa you are looking for.
You'll also enjoy other benefits like interest-free financing and extended repayment periods. Most importantly, you can try out a sofa for a few weeks with some brands and have the option to exchange a sofa or ask for a full refund.